It's one of those questions which seems obvious from the word itself "headstone", but it's the sort of debate you could easily have with friends which has a shocking revelation at the end.
Traditionally in the USA, when a body is buried in a cemetery, a headstone is placed at the head of the grave to identify the person who is buried there. The headstone usually states a person's name, their date of birth and death; occasionally some personal information, a prayer or a photograph.
Strictly speaking, a headstone is a marker at the head of a grave, and a footstone is a marker at the foot of a grave. However, in recent years due to a lack of space or the layout of a family's plot, footstones have become increasingly common. The thing is that we as the general public didn't realize this was happening.
A footstone is a smaller marker placed at the feet and is usually used to mark the length of the grave from the headstone to the feet, hence the name. Usually, it will only contain a person's initials, but sometimes they may also contain additional information regarding the deceased.
If you are actually having that debate with your friends right now, read on for some more facts to win your case!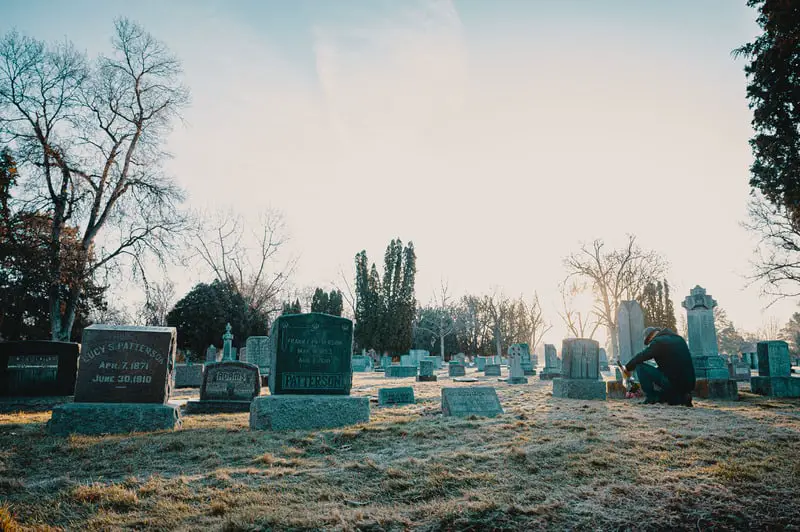 The origins behind a headstone's placement
Headstones were originally placed at the head of a grave due to superstition and fear.
As far back as the stone age, graves were covered by a heavy stone because of people's fear that the deceased may rise and torment the living after death.
Although overtime smaller stones were used which were only placed at the head of the grave, their purpose remained the same; to hold down the dead. Thus the first headstones were created out of superstition.
Footstones to mark the grave boundaries
The 18th Century graves introduced a footstone, to demarcate the foot end of the grave.
By the 18th Century, most graves had both a headstone at the head of a grave and a smaller stone, called a footstone, at the foot of the grave.
Apart from serving to demarcate the graves from head to foot, the gravestones also helped to prevent people from walking on them, as this was considered disrespectful and bad luck.
Additionally, having both a headstone and a footstone helped to avoid accidental excavation and overcrowding of a graveyard.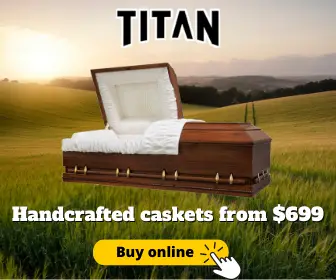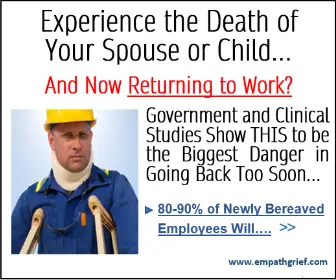 Headstones in modern cemeteries
Traditional gravestones today are usually simple, with only a headstone placed upright at the head of a grave. Modern burials, however, are no longer superstitious, and although the superstitions may still exist, there are no specific restrictions on the orientation of a gravestone.
This may depend on the cemetery's rules and regulations, however. Some cemeteries will regulate the headstones within their grounds, including their orientation, size and even sometimes the material used to make them.
Family Plots
In recent years both conventional and unconventional graves yards have begun to offer group spaces or family plots which are usually centered around a single-family monument.
Without space for headstones for the whole family, the individual graves usually have only a footstone or a flat marker at their feet.
Garden cemeteries
Earlier in the last century too, many cemeteries went for large expanses of open lawn that imitated a park. The idea was to make it easier on the eye for the families of the deceased.
As all the graves looked the same they could focus on the graves of their loved ones and not be distracted by other larger and elaborate ones. Each grave would get a small flat marker, which was mostly placed at the feet.
Military Graves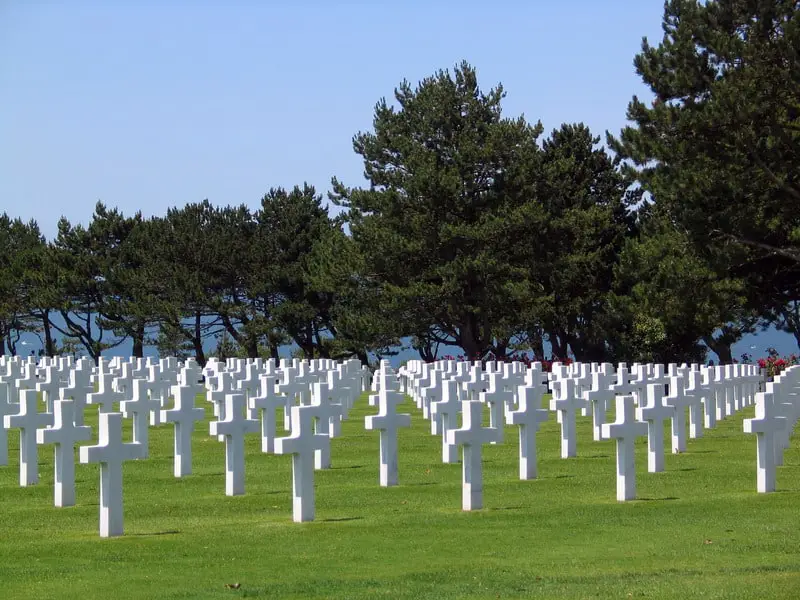 When military personnel die, the government provides the family with the choice of a headstone or a flat marker with the veterans' name and military information inscribed.
In some cases, a family may want to purchase their own headstone and can then choose to use the flat marker as a footstone so the deceased can be recognized for their military service. 
Different religious practices regarding burial.
Although headstones today are generally placed at the head of the grave because of tradition, there are no specific restrictions that require a marker to be placed specifically at the head or at the foot of a grave.
However, not all cultures bury their dead with a gravestone, and there are sometimes implications regarding how a body is buried according to religious law or culture. Additionally, many cemeteries have strict rules regarding burial specifications.
Christian
Until recently, the Christian church objected to cremation as it interfered with a body's ability to be resurrected when Christ returns. Thus all Christians had to be buried.
However, in 1918, after world war one, Christians began to slowly accept cremation, and today it is very common. Countries such as eastern Europe and Russia, Latin America and the Philippines however,  still mostly forbid it.
Traditionally Christian graves face east, as it is a reminder of the second coming of Christ, where Jesus will appear in Jerusalem, which is in the east for European countries and the USA. 
The belief is that when Christ returns, people will rise from their graves. Burying a corpse eastward would mean that the body would be resurrected to face Christ and Jerusalem.
The only exception to this rule would be a member of the clergy who would be buried so when they are resurrected they will be facing their congregation to help lead them into paradise.
A Protestant Christian burial will generally be within three to four days of a death, however, a Catholic burial will be within 24 hours. Both denominations will generally place either a headstone or a footstone on a grave.
Judaism
In Jewish tradition, a body has to be buried within 24 hours and if not, within 48 hours. Cremation is considered a violation of the body and therefore forbidden.
A tombstone is usually placed at the head of the grave, engraved with a name in Hebrew. Additionally, the deceased's father's name and the date and the year of death are also engraved in Hebrew. Engraving a human form or mounting any photographs is forbidden.
Islam
In Islamic culture, a body needs to be buried within 24 hours. Generally, Muslims don't use coffins, and instead, simply bury the body in the ground with their head facing Mecca.
Islam forbids cremation of the body as well as putting up any structures over graves and the Qur'an tells believers that any of these structures should be knocked down. But it is permitted to put a marker on the grave so that the family and friends of the deceased will know where it is.
Traditionally, Muslim grave markers are plain, although some graves are also marked by a simple wreath. In recent years, it has become more common for family members to erect grave monuments.
Hinduism
In the Hindu faith, there is no burial and the bodies are cremated. It is believed that the soul has already departed the body.
Therefore a headstone is uncommon.
Cemetery rules and requirements.
Many cemeteries do prefer you to purchase a headstone from them instead of another retailer, and thus there may be additional fees charged if you choose to purchase one through an outside company.
Check with the cemetery, in which the deceased will be buried, before you decide on your preference of a headstone or footstone.
Sometimes there are regulations regarding a markers style, size, and material, which will affect whether you have a headstone or a footstone. Even if you own a plot within a cemetery you may have to adhere to the cemeteries rules.
Types of headstones.
Upright Headstones. These are very traditional.
Flat Headstones. These are usually flush with the ground.
Kerbed Headstones. These are full length, horizontal gravestones, built to cover the entire grave. They are usually flush with the ground.
Related questions.
Where do I find information regarding the rules and regulations for a cemetery?
Cemetery rules can differ according to cultural practice, religious belief and also according to the rules set up by their managing body. Go to the cemeteries website or call them directly to ask for more information regarding this. If you use a memorial service, you won't need to worry as they will deal with legalities.
Can I put my own headstone on a grave?
You can only put your own headstone on a grave if you own the deed of grant to a cemetery plot if a cemetery allows this. Only the registered grave owner is legally entitled to do this.
How long before you can put a headstone on a grave?
If the grave was dug into the earth it will take about 6 months or more for the ground to become firm enough to hold the weight of a headstone.
However, some cemeteries put a concrete piece along the head of a grave to avoid having to wait so long.
For more details and information please read my full article here.
How much is the cheapest headstone?
There are many variables that can affect the price of a gravestone (please read my in-depth article here).
The size, and the material used to make it will have an influence on the final cost.  Although the average price for a headstone is $2000, you can purchase a standard flat headstone for $1000.
I recently looked into getting a loan and I've actually had a good experience with Supermoney.com. For me, it was a car loan but I spoke to them about a dedicated funeral expenses loan, which is one of the services they offer and was quite impressed. To see if you could qualify, check out my link here.
What is the best material for a headstone?
For a more expanded answer to this question you should read my article, but for now, let me give you a few important details.
The best materials for making headstones are:
Granite.
Bronze.
Marble.
Sandstone.
Iron.
Slate.
Fieldstones.
Wood.
Most modern headstones are made from granite or bronze. Granite is the most beautiful and durable stone and has been used for centuries. Bronze, on the other hand, adds a sense of sophistication to a gravestone.