When looking to purchase a headstone, knowing how much to spend can be difficult. You have a lot of different choices. The cost will not be the same for all types of headstones, but with some research, you will finally know about how much to pay for it. 
For a simple, black, granite upright headstone, you should pay around $1,500, this usually will include installation as well. It will be around $1,000 for the same type of flat headstone. Both costs are purchasing from a funeral home, it can be much less costly if you do some of the work yourself. 
Not everyone wants the same type of headstone and the headstone should reflect what the departed wished for. After you know the general idea of what it will say, you can start to look into your options.
You will be surprised by how many you have, but reading on will help you make a more informed decision in this trying time. 
Purchasing from a Funeral Home/ Monumental Mason
Most people choose to purchase a headstone/marker from a funeral home or a trusted local stonemason. There are a few reasons for this and not doing it yourself or purchasing the stone online. Here are a few pros and cons of purchasing it from these two sources. 
Pros
Peace Of Mind-If you already know where the deceased is going to be buried it can be much easier to have the funeral home set it up. They also usually have relationships with local stonemasons and work together, so you do not have to deal with that.  If you are dealing with this on your own and it is an especially difficult funeral of a loved one, this could make it easier for you. They will stand behind their products and can fix any issues that arise such as crack or deformity in the stone. 
Quality- Not all headstones are created equal nor are the people who make them. By purchasing from a local vendor, you can see and get first-hand knowledge from others that have used their services.  While this may not be feasible for online services. You also do not have to pay for the shipping cost of the stone. Not all online sellers are shady but with any burgeoning business, they are some. The biggest issue is usually the quality of the granite, which is hard to see over the internet and to the untrained eye. Use reviews and personal recommendations to choose the best craftsman for your budget
Customer Service– If you purchase the headstone from an outside source you will need to do some of the steps on your own, and you may run into hidden costs and paperwork. This does not mean that it will be more expensive, just more time-intensive. Such things like checking if the cemetery has rules about the type and quality of stone that must be followed. This is a very common one in the U.S but becoming less so. If the online seller is not verified,  they may not even allow the installation of the stone. Also, you will probably have to pay for the installation of the stone as well.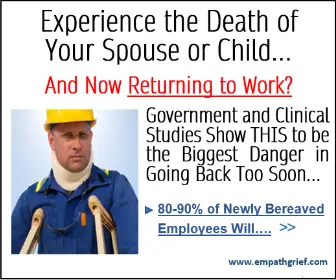 Cons
Cost- While it may be more convenient to have the local mason or funeral home make the stone it will probably cost you more. You are paying for the whole package and a lack of options.  As long as you follow the rules and regulations of the cemetery, they must accept the stone that you bring to them. So, if you are going to buy from an online or outside dealer make sure to check with the cemetery first so you know what you can have. 
Variety- Often the local headstones are made from the most accessible and/or the most requested stones, usually granite/marble for headstones and bronze for markers. With online purchasing, you can different types of stones such as quartzite which seems to be the longest-lasting stone on the market. Aluminum is not a common marker but is widely available for online purchase as opposed to the more expensive and conventional bronze. You will also have more color choices, though many cemeteries have restrictions on what colors are allowed. Most commonly they ask for a black, granite headstone. 
Convenience- It is quicker and easier to purchase a headstone on the internet than ever before. With more and more reputable dealers and the price of shipping going down, you can get any type of headstone fairly quick, without any hassle. Be sure to check with the site and read testimonials to ensure the quality of your product. You will also have to install the headstone yourself or pay to have it done again keeping in contact with the cemetery or funeral home. 
What am I paying for? 
The costs you see range wildly from a few hundred dollars to tens of thousands.  The reason for this is that everyone has special specifications and/or needs that they want to be fulfilled. While some may want the more lavish kerbed headstone with a monument, others may opt for a more subtle flat bronze marker.  There is no right or wrong type, find what suits you the best, you may be surprised how good a small marker can look.
Types of headstones/markers.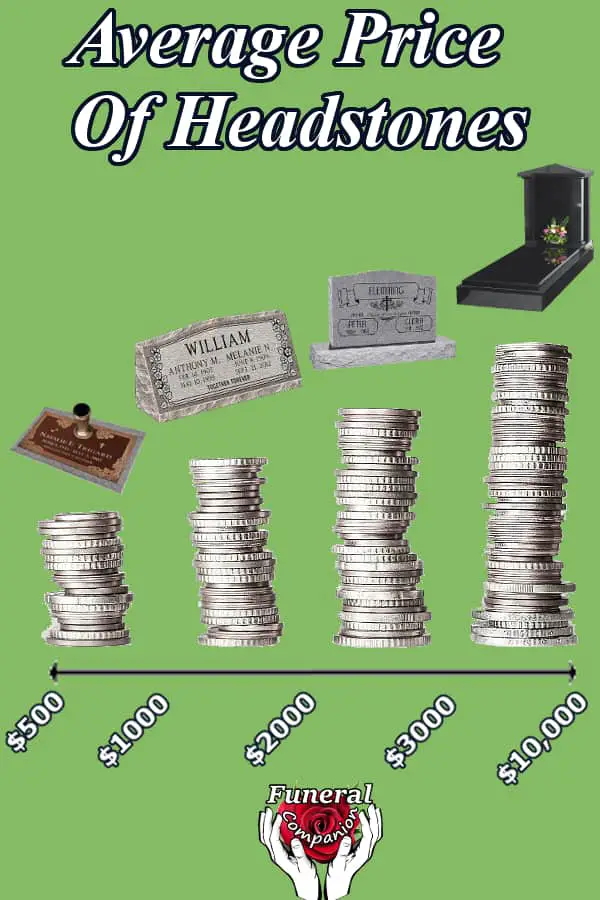 There are a lot of different styles and types of headstone/markers, but these are the most common you will see. These are typically available for a single person, but they can be made into companion or family memorials. The cost of the companion memorial is a little less than double the cost of a single. The family plots vary on how many people you will have.  These costs below are if you were buying them from the funeral home.
Kerbed headstones– Are large and the length of the whole body, they are the most expensive and ornate. They can cost over $10,000. 
Upright headstones – The most traditional design that you see in cemeteries. Average price range $1,500 to $2,500
Flat or slanted headstones – Usually small and less ornate, but still made of one stone. Average price range $1,000 to $2,000
Bronze marker– Similar to the flat headstone, but has a bronze plate on top of the stone instead of engraving. They are the cheapest of these four types. Average price range $500 to $1,000
I recently looked into getting a loan and I've actually had a good experience with Supermoney.com. For me, it was a car loan but I spoke to them about a dedicated funeral expenses loan, which is one of the services they offer and was quite impressed. To see if you could qualify, check out my link here.
Types of Material
This is where you will incur most of your costs. The most common types of material used today are granite and bronze. These two are used for there ability to withstand the elements. The bronze marker will be cheaper because it is smaller. Granite has many different colors and grades, the more exotic the color or pattern in the stone the higher the cost.
The reds and blues cost the most because they have to be shipped from another area. There are other types of stones that can be such as quartzite, fieldstone, sandstone, etc. These are usually used due to their cost or durability.   Traditionally marble was the most popular due to its patterns and finishes, but it has gone to the wayside since it is more expensive, weathers quicker and needs more maintenance.
For more information on which headstone material lasts the longest please read my in-depth article on this topic here.
What if I buy the stone online?
Buying the stone online will be significantly cheaper than the above prices, about half. But, you must take into consideration that you will have to do the rest of the work yourself or pay someone for each of the other steps. Unless something goes wrong it should still be cheaper. A few things to think about though are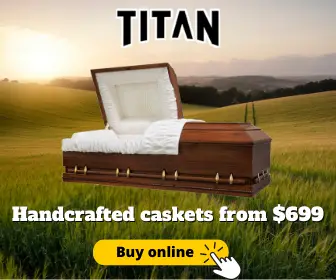 Online retailers don't install your stone/marker in the cemetery. 
Cemeteries have rules and regulations on style, size, shape, etc, if they are not met the stone will no be placed. 
You cannot see it before you buy it. 
Shipping may not be included in the first price and the stone may be coming from afar, so it could be costly. 
Engraving
Engraving of your stone will be the next large cost and depending on the size of the headstone and amount of words/pictures you have it can get expensive. You have two types of engraving available: hand and laser-etching.
The laser-etching will be cheaper and is usually chosen for portraits as it is very precise. It will also last as long as the stone does, while the hand engraving may need to be touched up in the future. The big positive of hand-etching is its artistic quality and it can be done on all different types of stone,  while a laser cannot be universally used as stone, like marble, is too soft.
For an 8-inch portrait on a granite headstone, it will be around $600 for laser-etching and $1,100 for it to be done by hand. The laser-etching is charged by space whereas the hand-done is charged by blocks of characters. 
If you are getting a bronze/aluminum marker, they are much cheaper to engrave as well. These more pocketbook-friendly markers give you more depth and detail as they do not sit flat. The whole plaque and markers are charged by piece and included, they are around $500 for a small one. 
Can I Engrave it myself?
Yes, you could engrave the stone if you wish. You would need to be very careful because if you hit too hard the stone could split. Also,  you could risk the integrity of the stone and it could fall apart or crack at a later date. The proper tools and equipment are very pricey as well.  This also goes for markers. The other major issue that people find is how it looks, it may not be the most attractive looking monument if you do it yourself, but it is your choice. 
Sometimes you may want to add a name to an existing headstone if this is the case you would find my full article on how to do this very useful. You can read it here.
Installation
Installing a headstone is not an easy feat. Most cemeteries don't charge extra to have the headstone installed. They want it done right because it is there place of business as well and want it to look good. If they do not offer the service you can hire an installation team. The average headstone installation price will be around $300 depending on the amount of work and the size. 
If you are wondering whether or not you need permission to erect a headstone either on your land or in a cemetery, read my full article on the topic here.
Can I install the headstone myself? 
Depending on the cemetery or location, you may be able to install the headstone yourself. A few things to remember, headstones are very heavy and you need transport to just get it there.
Then you need to make sure you have measured properly and dug the correct size hole so that it sits nicely on top. You may even have to pour some concrete so that it sits right, while this may be feasible for a small marker, it will be very difficult for anything larger than that and probably should be left up to a professional. 
Maintenance
After the headstone is placed into the ground you still will have to maintain it.  The cemetery may include this service or you might have to hire a professional headstone cleaner. The cost of maintenance is around $100 for the average stone in normal weather. It will be a bit more if you want them to add fresh flowers (see my recommended florists) and have the lawn manicured. 
If you need to order flowers for a funeral then I can really recommend BloomsToday.com as I had an excellent experience buying from their site. You can check out the deals they have here, but when I ordered it was 25% off! Fingers crossed!
Self-Maintenance 
Yes, you can perform maintenance on your headstone yourself, this is the most common and easiest step that can be done on your own.
Before you clean it yourself make sure you have consulted a professional and/or done through research. Different stones require different methods of cleaning and using the wrong cleaning product could harm and damage the stone or marker. 
There are all different types of stains as such as rust, mildew, mold, and water. These all have different methods of cleansing. But, if you want to do a general cleaning the basic equipment you need is below and be gentle. 
Dish soap or a gentle cleaner, no harsh chemicals.
A bucket of water.
Cotton swabs or q-tips to clean inlays and engravings.
A few rags/cloths for washing the headstone and drying it.
How to save money and have it still look respectable
Plan Ahead- You can buy the headstone ahead of time to save your family the trouble. This also can lock in the current price to stop inflation.  You will also have time to shop around to find the best price. If you don't buy it ahead of time, having a will and money set aside for the family to use with clear instructions will help a lot. 
Direct Purchasing- When you purchase the tombstone from a funeral home it will usually cost more than purchasing it privately. A local stonemason would be cheaper but the cheapest will be online. As said above be aware of what you are buying and check with the cemetery beforehand. 
Be a Minimalist– If you reduce engraving, it will cost a lot less. This also goes for reducing the size of the stone or monument. Remember that it flows from creation to finished product. The bigger it is,  the more land, finishing work, costs to ship, and concrete foundation is needed. These costs will add up. There is nothing wrong with a small flat headstone. The costs will be minimal and it looks just as nice. 
Are there any alternatives to headstones that are cheaper? 
Yes, there are other alternatives. You could do a few different things such as getting cremated, which would get rid of the headstone altogether.
For a more green and cheaper funeral, you could have a tree or some sort of plant placed instead of the headstone. For more information on greener and more ecological funerals check out my article on green burials here.
Cemeteries have maps where you could be found. Putting a bench down for those to sit on can be cheaper and more useful to the general public. The name could be on a small placard for remembrance. 
Can you recycle a headstone?
In theory, yes you could use a headstone again. While this is not a common practice it is possible to do. Headstones are recycled for other purposes such as pavers, countertops, fences, and road markers. If one was so inclined and found a stonemason that would/could fix the stone to say the name of the deceased they could use it. 
How much does a natural burial cost? 
A natural burial is a cheaper way to bury a person and is better for the environment. It does not involve any headstones, markers and the body is not embalmed. The cost of this burial is around $1,500 depending on the site of the burial among the other factors. 
What happens if the family can't afford the burial? 
If the family can't afford the money for the burial you would sign a form telling the coroners office this.  The county will then pay for the burial or cremation of the body, this is the same process if there are no family members as well. 
What happens if they were a United States Veteran?
If the deceased was a Veteran they may qualify for a free headstone. Also, some cemeteries have special plots for Veterans as well, please look at VA's website for more information National Cemetery Administration