Nowadays most of the things we want and need can be purchased online, but can the same be said when organizing a funeral? Can and should you buy the coffin or casket for your loved one over the net?
Buying a casket online is not only possible but also vastly cheaper for all people planning a funeral. There are a number of reputable vendors on the internet who offer fast delivery, often for free, as well as a wide range of high-quality caskets which can be delivered directly to funeral homes.
As this is probably the first time you have done this, and hopefully the last, I'd like to walk you through some of the other questions you may have. So please continue to read for more information.
Where to buy a casket online
You can purchase caskets from a number of online retailers, some fairly well-known and others newly established. Although I haven't dealt with all of the possible vendors out there, I can recommend a few things to consider when choosing who to work with.
Can you talk with a real person?
Although you are buying this casket online, you aren't an expert and you will still want to check a few important details. Having an active helpdesk or contact for the website is a very good indicator that you are dealing with a professional company.
So, before you pull out your credit card (see my recommended deal here), give the website a call and double-check that the casket you want to buy fits the needs of the funeral you are planning. Confirm delivery dates and, if not going with my recommendation, delivery prices.
Note: I am a proud affiliate of titancasket.com and while a receive a small commission on qualifying referrals this in no way impacts the price of any purchases made.
Is it a 'national' vendor?
Before you go ahead with your purchase, confirm that the website is actually operating in the country you live in. If you live in the US, certainly don't work with a British website and vice versa.
Also, if you do find an American website that sells caskets online, check that they deliver to the state you want to hold the funeral in. As with many things, delivery and fees will change if you don't live in the lower 48.
Are the website's policies clear?
Whenever you buy something online, especially an item with a significant price tag, you want to know the polices of that website. Be sure you understand the exact delivery rates and times. What are you responsibilities in terms of receiving the item? What are the return or exchange policies?
If you can't easily find this information or when you talk to someone they can't clearly explain them, it's probably not worth taking the risk with that website.
What online casket retailed do I recommend?
As I said, there are a lot of really good retailers out there but I have been recommending Titancasket.com for a number of years because they offer very good quality caskets, coffins and other funeral accessories at very competitive prices. They offer free shipping within the Continental United States as well as making sure those deliveries are fast and convenient.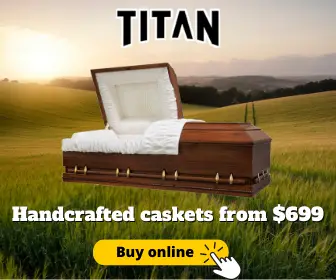 Another great advantage of Titancasket.com over other online vendors is where the caskets come from. Unlike their competitors who import caskets from abroad, Titancasket.com actually build the caskets themselves. This ensures a higher quality product that is still cheaper than what you will find sold in most American funeral homes.
I've found dealing with there staff to be easy and helpful, which is essential while dealing with the stress and grief of planning a funeral. You can find out more about this company on their website here.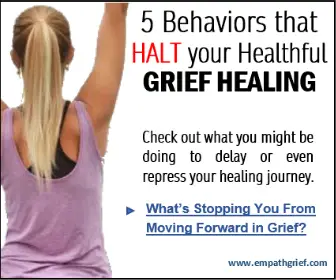 What type of casket do I need?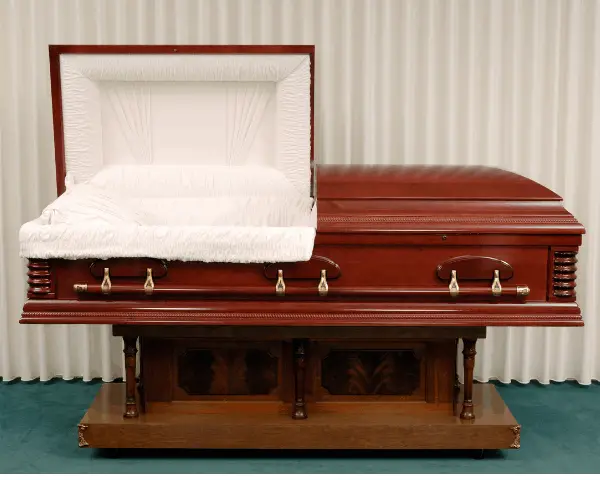 Most of us would never have bought a casket before, in person or online, and so it's hard to know exactly what you are shopping for. So, here are some basic ideas to bear in mind while shopping for a casket online.
Should you get a coffin or a casket?
Coffins differ from caskets in design. Whereas a casket is really a four-sided container, a coffin boasts a hexagonal design that tapers at the head and feet of the container. Apart from being almost synonymous with old black and white vampire movies, coffins and caskets do the same job. This being said, caskets are a lot more popular for funerals nowadays.
What size casket to buy
Most caskets will be ' one size fits all' in design. The ones sold on Titancasket.com are 24 inches (61 cm) in interior width which should be large enough for most average-sized adults. If needed, you can purchase caskets of up to 36 inches (91.5 cm).
Before you buy a casket online, make sure you discuss the exact size needed with the funeral home you are working with. Don't worry, they are legally required to accept any casket you want to send them so don't be afraid that they won't help you.
Do I need a particular style of casket?
After choosing the right size casket, the style and color are really down to you as the family of the deceased. There are several different options you can choose from including external fixtures such as handles and metal panels.
Remember that the more ornate the casket the more expensive it will be. You can get a good idea of the budget you should have by comparing the online prices with the prices listed in the 'general price list' you can request from the funeral home. Often you'll be able to get an even more luxurious casket online for the same basic price of a standard casket from a funeral home.
Is the choice of caskets more limited online?
The choice of coffin or casket sold by online stores is often equal or more extensive to the offerings found in a funeral home. Often funeral directors will have a smaller, and more expensive, selection which is reliant on a third party supplier to have in stock. online retailers can often stock caskets for every need, taste and personal requirement.
I have found that most smaller local or family-owned funeral businesses have very limited stock and tend to promote the more expensive items they carry. This can often be difficult for grieving families with a modest budget or those wishing to have a less traditional funeral.
There are a lot of materials that can be used in caskets, which are all available online, and these materials affect the price and environmental impact greatly.
How trustworthy are online casket vendors?
As with any vendor, online or otherwise, there are some who are better than others and some who may scam you. However, it's rare to meet scammers nowadays. You can find my recommendation in this post but always do your own due diligence before purchasing online.
Here are some tips you can follow to make sure you are purchasing from the right retailer.
Tip 1: Read the reviews
Although no business is likely to put bad reviews on their site about the products they make and sell, the reviews can tell you a lot. Do the reviews seem genuine? Do they sound they have been written by different people? If they have, you can be confident that they are from genuinely happy customers.
Tip 3: Use a safe method of payment
Nowadays customers are given an amazing level of protection when it comes to making online payments. Make sure that you always use a credit card with payer protection or an online payment system such as PayPal.
These methods of payment allow you to have a full refund if anything should go wrong or if, heaven forbid, someone gets hold of your private information.
Tip 3: Look for proof of trustworthiness
Often reputable e-commerce sites will have a third-party company vouch for their reputations. Sites such as Trustpilot can be used to contact previous customers and validate a site. These services are actually quite expensive, so a scammer is unlikely to go to the trouble.
Tip 4: Double check your shipping address
Although you are more than likely going to find a company that is reputable to sell you the casket if it doesn't arrive at the right place that could be your fault. Double and triple check with your funeral home where you need to ship the caskets and what is the correct address.
Be sure to include all the correct information in the order form and don't put down your address as the shipping address (only use it as the payment address).
Tip 5: Include a phone number
Sometimes the shipping address can be 100% correct, but the delivery driver still gets turned around. Always include a phone number, preferably for the funeral home, so that the driver can contact the person who will receive the casket.
How much will it cost to deliver a casket?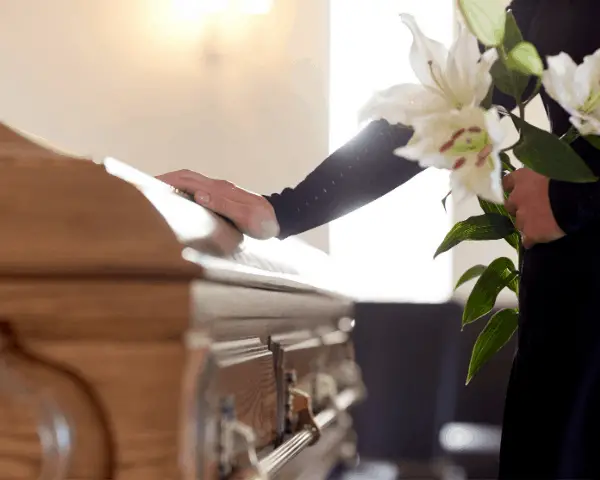 Many online casket retailers offer free shipping for their caskets, especially in the lower 48 US states. However, always read the fine print as some sellers charge a fee for delivery after a casket has reached a major metropolis. Normally this is a fee based on the journey between a major airport hub and a funeral home which surpasses a certain distance.
Although many of the current online casket vendors do offer over-ground delivery for free, there are some conditions with certain sellers which you should know. In some cases, delivery is totally free to certain States within certain delivery conditions. In other situations, delivery to major city hubs may be free but the onward journey, with another carrier, may not be.
With all this considered, it's still important to note that in all most all cases the casket will be cheaper to purchase and have delivered than if you had bought it directly from a funeral home.
Example delivery costs:
Free delivery on all caskets and products (2-6 days)
Expedited shipping fee – $250-500
End delivery fee – $0
Free Air delivery (However, only first 20 miles is free then $2.95 per mile)
Delivery in 1 – 4 days
Free over-ground delivery
Delivery in 1-7 days depending on State.
Next day air delivery (Airport to funeral home delivery free for first 30 miles)
Will the casket be delivered to my home?
When purchasing a casket online it is advisable to ship it directly to the funeral home preparing the deceased for burial or cremation. Recent FTC rules have made this process more accessible to families and completely free, apart from the shipping costs. Funeral homes must accept the casket when it is sent to them.
In most cases, the casket will be bought only after death and it makes a lot more sense for it to be shipped directly to where it is needed. As funeral homes are a place of business, they are also more likely to be present when the delivery is made. Although porch pirates are unlikely to spirit away such a large package, it's not worth the risk for most people.
Of course, there is nothing stopping you from having the coffin delivered to your home if that's what you want. Some people have been known to pre-order their own casket and use it for storage or as a focal point around the home. Each to their own I suppose.
Do I have to be present when the casket arrives?
Legally you don't have to be present when the casket arrives at a funeral home. They are required under FTC rules to take delivery of any casket you send them without charging you for it. However, some funeral homes may require you to be present when the receive or open the packaging. This is because they don't want to be blamed for any damage caused in transit.
Although online casket retailers take every possible precaution to ensure the casket arrives safely, they cannot control how the courier handles the item. You probably want to be present to ensure that you have received what you paid for and to quickly deal with any unforeseen issues.
How quickly will a casket arrive?
As the websites that sell caskets online realize that they are items needed pretty quickly, they are normally excellent at delivering them quickly. Most vendors will ship within 24 hours and several delivery options are normally offered.
The average delivery times quoted on the most popular online casket retailer's website is 2-4 days. However, this will largely depend on your location and whether you have chosen over-ground or air delivery. Sometimes delivery can be up to and over a week.
Be sure to discuss this with the website over the phone before you buy the casket as delivery times may be different depending on your personal situation.
Can I order a custom-made casket online?
It is possible to design a custom casket and several online casket sites, in particular from titancasket.com. The customer can choose the exterior and interior colors as well as many of the decorations and fixtures, known as hardware, on the exterior. Often these custom options are just as affordable as a regular casket.
See the options on Titancasket.com and design your own custom casket.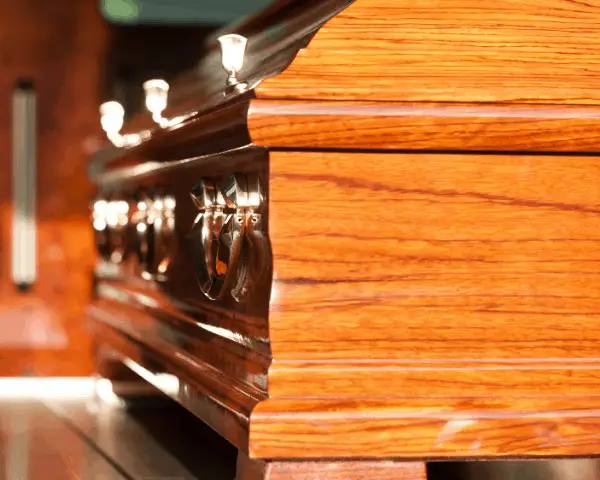 Isn't it easier to just buy a casket from the funeral home?
Without a doubt, it would be much more convenient to buy a coffin or casket directly from the funeral director, but that convenience comes at a price. The mark-up on items such as caskets can be astronomical and simply by spending a few minutes online, you could save thousands on a casket.
Often the reason why people buy caskets directly from the funeral home is that they believe that they have no choice. This is completely false.
Does Walmart sell funeral caskets?
Walmart, along with some other big retailers such as Costco, stock caskets in-store and online. These can be a fraction of the price you might pay at a funeral home. These caskets are also not as cheap as you may find them on other online retailers' sites, such as titancasket.com
Isn't it disrespectful to order a casket online?
Discussing the purchase of a casket, let alone one from an e-commerce store, is not an everyday conversation and may feel very different from buying other items online. As families are normally in a state of shock and extreme grief (Speak to a professional today from the comfort of your home), emotions run high when considering the purchase of such a crucial piece of funeral paraphernalia.
Price seems to be very much aligned with respect when it comes to funerals, and so getting a great deal on a casket (see my recommendation here) seems a huge betrayal of the dignity of the deceased. It shouldn't be seen that way.
Funerals are expensive, but not because they are the solemn occasion that they are but rather because they are part of a billion-dollar business. Paying more for a funeral than you have to isn't a sign of respect in my opinion, but a poor legacy for your deceased loved-one.
We shouldn't see buying caskets or even headstones online as tacky or miserly nor are the products likely to be poorly made or substandard. In most cases, sourcing your own casket online will allow you to dedicate money to a much better cause or to some other way to remember your loved one.