Coffins are one of the most expensive funeral costs and opting to rent one can save major money. Renting houses, cars, tuxes and even dresses seems commonplace but many people step back at the idea of renting a coffin or casket. The practice is more common than you may think and is a great option for those speaking an eco-friendly or more affordable funeral.
Most funeral homes have the option to rent a coffin if asked. This option is increasingly popular as more people are looking to cut the expensive of funerals & be environmentally friendly. The body is placed in a simple wooden box inside the coffin, & then removed from the coffin after the service.
Whether looking into cremation or burial, coffin rentals are a viable option for both. If you haven't thought about doing this for your own funeral of that of a loved one before now, then this article will be of great interest to you.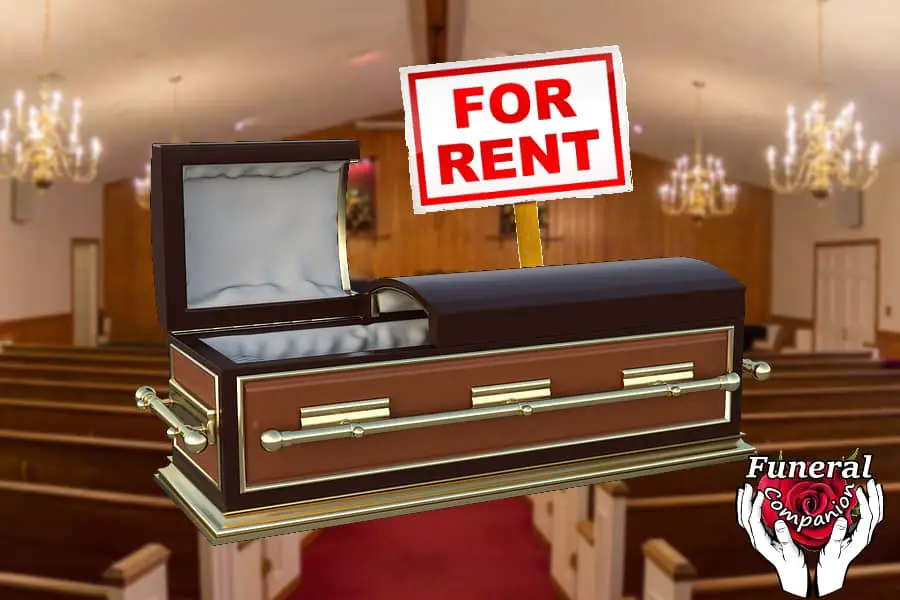 Before we dive in, it is important to clarify the use of the word coffin vs. casket, which are used interchangeably in this article.
Both are used for the same purpose, to bury or cremate a loved one. The difference lies in the design. Coffins are tapered in at the foot and head while remaining wide at the shoulders.
In contrast, caskets are rectangular and do not taper. Caskets are sometimes known to be constructed of better quality wood and feature more "showy" type designs along with higher levels of workmanship.
Read on for more information about coffin rentals, green funerals, and how to keep funeral costs down.
Renting a Coffin or Casket
The savings from coffin rental
On average, American funerals can cost from $8,000 to $10,000, with caskets ranging from $1,000-$10,000 according to the Federal Trade Commission.
Even though you may have never heard of coffin rentals, they have been around for years. Renting a coffin can drastically cut down these costs. In some cases, coffin rentals can save a person up to $1,000.
Almost every funeral home has the option to rent a coffin. It is similar to any other coffin option. If money is tight, renting gives you more freedom to choose a fancier coffin, or stick with the basics to save even more.
I recently looked into getting a loan and I've actually had a good experience with Supermoney.com. For me, it was a car loan but I spoke to them about a dedicated funeral expenses loan, which is one of the services they offer and was quite impressed. To see if you could qualify, check out my link here.
Hygiene and aesthetic considerations
Coffin rentals are hygienic, as the body of the deceased will never touch the interior of the coffin. The body will be placed into a simple wooden box, and then box then placed into the coffin of your choosing.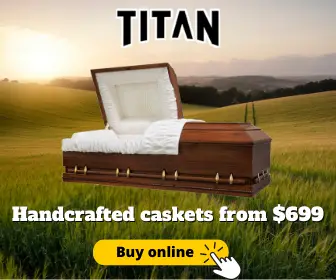 The wooden box matches the interior of the coffin, so it will not be unattractive or obvious. This is ideal for cost-effective open casket funerals. You can think of the wooden box as an extra sleeve that was made with the coffin.
After the service, the wooden box is easily removed from the coffin from a side compartment or by being lifted out of the coffin. The coffin is then ready to be reused again and again. Even though the body will not touch the interior of the coffin, the funeral home is required to sanitize the casket after each rental, ensuring the coffin is clean and bacteria-free. This cost will of course be part of the fee.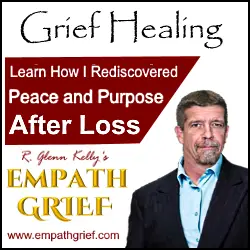 Viability for burials and cremations
Renting a coffin is a great choice for cremation and burial. Many who choose cremation do not find it necessary to spend hundreds (and perhaps thousands) of dollars on a beautiful coffin just for it to be turned to ash. For more information on how to avoid this, check out my full article on thriftier cremations here.
With coffin rentals, the body can be displayed beautifully for the visitation and funeral but does not need to be burned during the cremation. The casket will be structured so there is an inner container used for cremation.
This insert can be easily slid out from a small door on the head or foot of the coffin. The deceased will remain in the cremation container throughout the entire process, so there will be no extra manhandling of your loved one's body.
Many people opt for burying their loved ones. While some are sentimental about the deceased's final resting place, others do not place much weight on what the deceased is buried in. If you aren't one for spending money on what you deem as extravagant, a wooden box for your loved one to rest in after the funeral is a great option.
Although most funeral homes have the option for coffin rental, make sure the one you wish to use offers this service before starting funeral preparations with them. Some funeral homes may have less options for rental caskets, or even have just one standard casket as the rental casket.
Often you'll get different services if you asked the right questions, so to get the best deal have a read-through of my article on what questions to ask a funeral home when planning a funeral.
Along with saving a lot of money, coffin rentals are a way to make the funeral you are planning as environmentally friendly as possible.
If you need to order flowers for a funeral then I can really recommend BloomsToday.com as I had an excellent experience buying from their site. You can check out the deals they have here, but when I ordered it was 25% off! Fingers crossed!
So You Want To Have A Green Funeral?
Many people are becoming more consciences of their carbon footprint. Green funerals are popular both for the money saving benefits and the focus on environmentalism.
Renting a coffin is great for the environment because the coffin can be used again and again. It takes a lot of time and resources to build coffins, so reusing them instead of using it as a single-use resource is a good way to help out mother Earth.
So what are the components of a green funeral? There are a few steps in traditional funerals that can be cut out in order to lower costs and skip the negative environmental impacts. These steps include no embalming, omitting concrete vaults, opting for different burial containers and protecting the natural habitat of where you choose to perform the burial.
People choose green funerals for a variety of reasons. There are now hybrid cemeteries, or cemeteries that offer conventional and green burials. There is a significant financial reduction if a person chooses to forgo embalming, caskets, and vaults. If you'd like to keep some but not all of these practices your funeral home should work with you to determine how green you'd like the funeral to be.
Along with eco-friendliness and cost reduction, a person might want to have a green funeral because it speaks to their legacy. Sometimes people do not wish to be buried in a casket and kept away from the Earth because of the symbolism of "returning to earth" after passing.
Others may want to be a part of a conservation burial to ensure they are honoring land protection and restoration even after they are gone. It can be very meaningful if a person can uphold their fight for environmental protection even after death.
According to the Green Burial Council, Americans leave 20 million feet of wood in the ground every year from burials. This can be mitigated completely with a green funeral, as many bodies are wrapped in a biodegradable fabric such as cotton and linen and then placed into the ground.
Although cremation is often touted as an environmentally friendly option, it releases carbon emissions. Because of this, wrapping your loved one in a shroud of environmentally friendly fabric may be the best option. However, in most Western countries it would be a little traumatic to see this today, hence why a rented coffin may be needed for the service as well as transportation of the body.
Instead of using a concrete vault or burial container, opt for a coffin made of wood that has organic liners. Check to see if the coffin had to be flown in or transported a long way, as the gasoline used to transport the item is also something to consider when minimizing your carbon footprint. 
If you don't live in or nearby a large city, you may not have any green cemeteries close to you. You can still have a green funeral and minimize your environmental impact. You can even check if you qualify for a burial on your own land, which gives you a lot more control over how environmentally friendly it is. Check out my full article on this topic here.
Alternatives to Renting a Coffin While Still Keeping Costs Down
Rental coffins are not for everyone. If you don't' like the idea of renting a coffin there are still many more options for you. All of the below options are not only cheaper, but also environmentally friendly.
Cardboard Coffins
Cardboard is biodegradable and great for the environment. They have been increasing in popularity over the last few years because of their price and eco-friendliness. You can purchase a cardboard coffin for around $500.
Cardboard coffins are also popular because you can choose a vast array of styles and custom features. Cardboard coffins can be printed with flowers (see my recommended florists), guitars, animals, flags, religious symbolism, or just about any image you can think of or find on the internet. There are also options to customize the coffin with pictures of the deceased.
Cardboard is a sturdy alternative to wood and can hold up to 360 pounds. It also produces lower carbon emissions if you choose to cremate the deceased in a cardboard coffin due to a faster cremation rate.
Wicker Caskets
Wicker caskets are very aesthetically pleasing and environmentally friendly as they are constructed using only natural materials. They are made using a weaving technique commonly seen on chairs or other household and outdoor furniture.
Wicker caskets are a good option for cremation as they are carbon neutral. Carbon neutral means when wicker is burnt, it gives off the same amount of carbon dioxide that the wicker consumes during its lifetime.
Materials that are used to make wicker grow naturally and can prosper without fertilizers or pesticides. They also do not use any toxic glues, plastics, varnishes, or metals. Popular materials for wicker coffins include rattan, seagrass, willow, rush, reed, and bamboo.
Wicker caskets tend to be more on the expensive side, but are still cheaper than some of the traditional wood caskets. They usually start around $1,200. Wicker caskets are by no means a new phenomenon, and have been documented since the Roman empire.
You can usually purchase wicker caskets online. When you are purchasing, make sure that the coffin has a liner, usually made of cotton or another biodegradable fabric.  Wicker caskets can also come with nameplates, either included or at an extra cost.
When you are ordering online, always make sure to order the correct size, as wicker caskets come in various lengths and widths. Finally, ensure the website offers delivery to the funeral home. You can buy wicker caskets online from Funeral Direct, and Wicker Casket.
Use Recycled Wood
It is completely natural to want a traditional funeral and traditional casket. Traditional caskets are beautiful and very popular. If you'd like to use wood but remain eco-friendly, check out coffins that come from recycled wood.
The Reflections coffin is made from 80% recycled and waste wood, and 20% FSC-certified wood. FSC refers to the Forest Stewardship Council. The FSC is a non-profit organization that sets high stands for forestry, ensuring that it is practiced in an environmentally friendly and socially beneficial way. If wood is FSC-certified, the wood has met FSC standards.
You can find many other recycled wood coffins online. Coffins even come in flat-pack (IKEA style) and can be assembled in your home in just a few minutes.
Check out my article on tips for building your own DIY coffin.
Find A Local Carpenter
If you know of a local carpenter in your area, you can commission them to build a casket for you at a lower price than many large companies. It is always a good idea to support local businesses over large corporations, so this way you will be supporting a local while getting a coffin at a reduced rate.
A wooden casket can be made in any woodshop using relatively basic tools and techniques. Some people even choose to make their own caskets, but this is rather ambitious and not a great idea unless you have a lot of experience woodworking or want to do it for symbolic reasons.  
When speaking to the carpenter about what you want in a casket or coffin, be sure to discuss the three main parts of a casket with them. The shell, the lining of the coffin, and the handles and accessories. It is possible to buy casket shells from a manufacturer and finish the product (like linings and accessories) at home. Shells can be painted, the lining can be stapled or latched, and handles can be screwed on.
Another benefit of working with someone local is you will have a lot of control over what the casket will look like as long as it is within the carpenter's abilities and your price range. It is nice to be able to talk out your vision with someone instead of hoping the casket you purchase online looks like the image provided.
Biodegradable Human Pod
If this sounds like science fiction to you, you are not alone. With the rise of environmentally funerals, the biodegradable human pod was invented. Two Italian designers, Raoul Bretzel and Anna Citelli created an egg-shaped and organic casket that a body can be placed in. Made of biodegradable plastic, once buried, the plastic shell breaks down.
The idea is once the person is buried, a tree is planted above the body. When the plastic decomposes, the body will provide nutrients to the tree, creating new life out of death. If this idea was embraced, cemeteries would be filled with trees instead of tombstones, further helping the planet by increasing the number of trees on Earth.
The deceased would be placed in the pod in the fetal position in order to fit well in the egg-shaped pod. While this design is in process, there is still not a version available on the market. Bretzel and Citelli are not sure exactly how much the biodegradable human pod would cost but ensure it would be cheaper than the average casket. They do however, have a design available for purchase that has the same principle but instead of holding a body, it holds ashes.
The Living Urn
The living urn is a smaller version of the biodegradable human pod. The ashes are put inside biodegradable plastic with a sapling planted above the burial site. The living urn is $129 not including the cost of the tree. Their website provides guidance for the best tree options for your area based on zip code to ensure a healthy long life for the tree of your choosing.
While it makes sense that a body would degrade and provide nutrients for a tree, how do ashes perform the same function? When the bacteria in the soil break down the biodegradable plastic, the ashes come out of the shell and into contact with the soil. Ashes are gradually released as to not change the chemical balance of the soil dramatically.  Both saplings and adult trees can be planted and reap the benefits of the ashes.
Burials that use traditional caskets seal the body away from the Earth deep in a coffin. The body will decay regardless of what it is in, so it might as well also have a positive environmental impact.
This method of burial is legal in all fifty states in the United States, and in all of North America. If you are looking to have this type of eco-burial abroad, be sure to research burial laws before you begin your planning.
Renting a coffin is a great place to start for those looking to save money and have an eco-friendly funeral. If you don't want to opt for a traditional wood coffin but still want to cut costs, then there are many options for you to meet your goals and bury your loved one with peace of mind.
Your new insight into various burial methods should give you guidance and support when thinking of the best way to bury the deceased.